A passion for premium quality trailers for 45 years
2022 is a special year for Anssems. In 1977 the first Anssems trailers were introduced on the market. Now, 45 years later, Anssems has grown into a strong European brand and is known for its deep-rooted passion for premium quality.
Anssems focuses on the development and production of versatile, durable trailers. All trailers are equipped with a generous standard and there is a wide choice of original Anssems accessories which are easy to assemble.
Anssems offers a wide range of transport solutions; from the widely used low loader trailers, tipping trailers, horse trailers, car transporters, box van trailers, hard top cover trailers, welfare trailers and flatbed trailers. All Anssems' trailer parts are made with high precision. This is why high quality has been guaranteed for 45 years.
In-house design
Anssems designs its trailers using sophisticated software. To ensure consistent quality the production process is considered during this design phase. More about design and manufacture …
Family Values
​​Anssems is a family owned business. Even with various factories in the Netherlands, Germany and France, Anssems manages to retain its family values, such as a no-nonsense approach. The best ideas were created at the Anssems kitchen table in Tilburg. More about family values …
Reliable partner
Anssems delivers solid quality and durability. After production, every trailer is subjected to a strict quality control. The choice of materials, finishing and A-quality parts result in a strong Anssems trailer that is made for intensive use. Ask your local Anssems dealer for all options.
Production
All Anssems factories work according to the same production method. Smart logistics, automation and modern insights guarantee the high quality output. More about technique …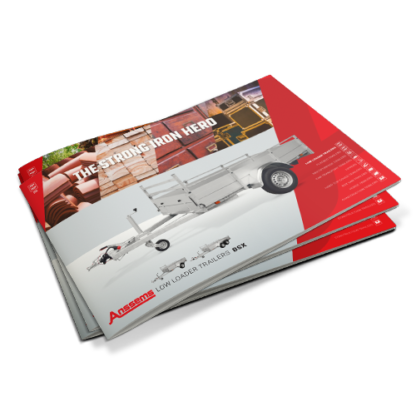 Free brochures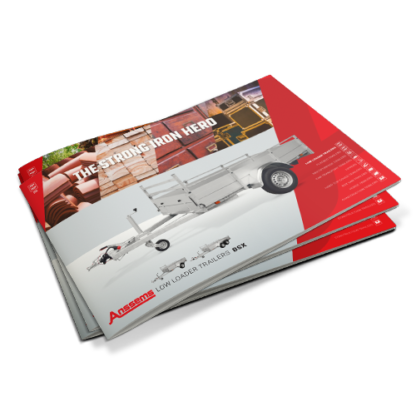 Anssems has a brochure for every type of trailer with an overview of all features, specifications and accessories. Choose your free copy.
Get your brochure
Assistance
The visual overview of the trailer
selector will help you find your ideal
trailer type that fully meets your needs.
Show trailer-selector