Anssems trailers with movable tie hooks
Unique Anssems feature

Easy to assemble

Movable in integrated binding rail

Also suitable for tie eyes

The unique binding rail of Anssems
An Anssems trailer is standard equipped with many binding options. A unique Anssems feature is the integrated binding rail in the aluminium panels for positioning tie hooks for a high or flat covers on the outside and on the inside of the panels for tie eyes when using straps. The high cover* and flat cover* manual shows the best position so the tie hooks don't interact with the rear lights when opening the panels.
The low loader trailers and hard top cover trailers and the box van trailers have an integrated binding rail on two sides of the panels. Trailers with fixed tie hooks on the loading floor, such as flatbed trailers and tipping trailers, have a binding rail on the outside of the aluminium panels.
* The accessories high covers and flat covers include tie hooks and elastic cord. You can also purchase a matching set of tie hooks or tie eyes separately.
Tie hooks and tie eyes benefits
Easy to mount.
Always the best position.
Suitable for high and flat cover, cargo net and straps.
Safe in use.
Quick to remove.
Unique Anssems feature.
Buying Anssems tie hooks or tie eyes
Your local Anssems dealer can help you choose the trailer with tie rail and corresponding set of tie hooks that fits your needs. If you buy an Anssems weather hood or curtain, the tie hooks are included in the set.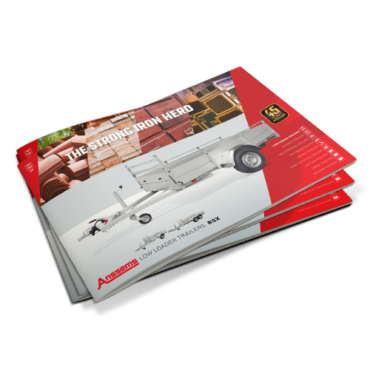 Anssems brochures show an overview of all models, features, specifications and accessories. Get the free brochures.