Anssems trailers with a spare wheel
Quickly onwards

Correct tyre type

Easy mounting

Avoid unnecessary delays in case of tyre failure
A spare wheel for your trailer is recommended if you use the trailer frequently (e.g. a long vacation or for your daily work) or if you often drive on unpaved roads. In this way you avoid unnecessary delay in case of a flat tyre. Anssems has a spare wheel on steel rim with mounting bracket for all trailer models. You can mount the spare wheel in different ways.
Note: You can prevent tyre damage by regularly checking the tyre pressure and tread. A spare wheel is a temporary solution so that you can continue your journey quickly. It must be of the same make and model as the tyres fitted to the trailer. After changing the tyres, have them checked at your Anssems dealer, maybe the tyre can be repaired or it is necessary to fit new tyres.
Spare wheel benefits
No long delays in case of a flat tyre.
Always the right type of tyre.
High-quality tyre and steel rim.
Matching bracket available.
Buy an Anssems spare wheel
You can buy the right type of spare wheel that is prescribed for your Anssems trailer at your local Anssems dealer. The Anssems dealer can also advise you on all the trailer models and their accessories.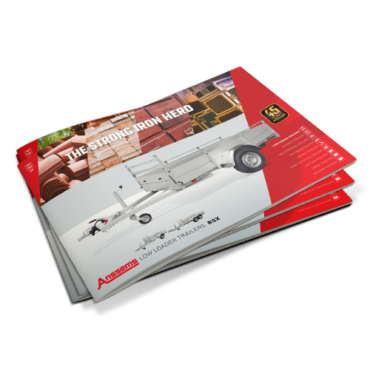 Anssems has a brochure for every type of trailer, containing an overview of all models, features, specifications and accessories. Here you can also read which spare wheel is available. Get the free brochures.