Anssems trailers with axle shock absorbers
More driving and braking stability

Prevents vibration

Improved road contact

Anssems axle shock absorbers
Anssems mounts A-quality rubber suspended torsion axles under all her trailers. Sometimes there is a need for more comfort and axle shock absorbers are mounted. Please note: this does not increase the loading capacity!
We recommend axle shock absorbers when you use the trailer daily with a maximum load. Or if you often drive on unpaved roads. After mounting an Anssems axle shock absorber set the trailer will react even better and feel more stable. All our axle shock absorbers meet high standards.
Axle shock absorbers benefits
More driving and braking stability.
Even better ground contact.
Prevents vibration on uneven road surface.
Installation without drilling.
Meets German Tempo 100 requirements.
Including all fixing material.
Buy Anssems axle shock absorbers
You can buy the axle shock absorbers at an Anssems dealer. Important: for safety and warranty reasons we strongly insist to have the axle shock absorbers mounted and checked by your Anssems dealer. (1 set of axle shock absorbers is for 1 axle) The Anssems axle shock absorber set is including mounting material and can be mounted without drilling.
Popular axle shock absorber sets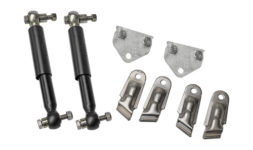 AMT and GT
Axle shock absorbers suitable for AMT vehicle transporters and GT models.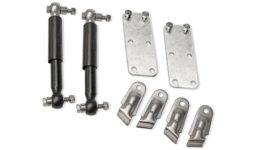 PHT
Axle shock absorbers suitable for PHT horse trailers.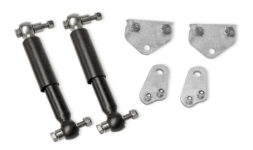 PLT and KLT
Axle shock absorbers suitable for PLT flatbed trailers and KLT backwards tipping trailer.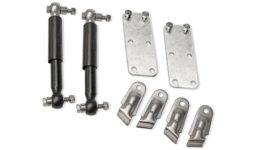 SX and PT
Axle shock absorbers suitable for ASX and PSX flatbed trailers, BSX low loader trailers, KSX three-way tippers, MSX multipurpose trailer and PTS welfare trailer.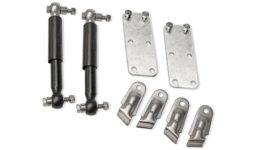 KLTB and KLTT
Axle shock absorbers suitable for KLTB-1350 kg, KLTT-2000 kg and PLTB-1000 kg.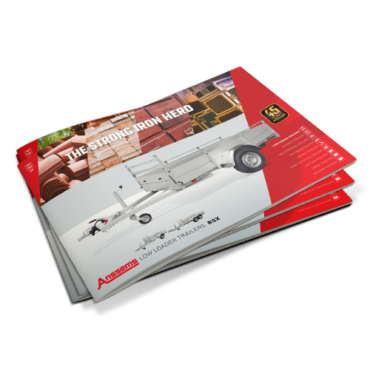 Anssems brochures show an overview of all features, specifications and accessories. Here you see which axle shock absorber sets are available. Receive the free brochures.